Home > Georgia > Homer
Are you looking for ESL Classes in Homer, GA? English speaking classes teach listening, reading, writing, and listening skills that are vital in mastering the English language. Our website makes it simple to find and contact non-profits that offer English as a Second Language(ESL) Classes in your city.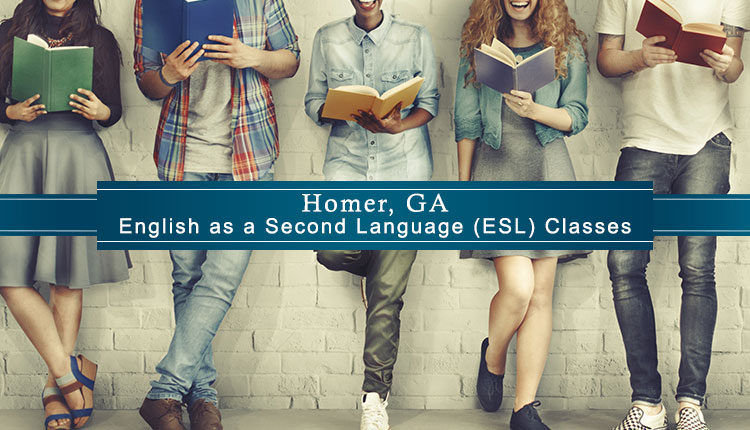 ESL Classes in Homer, GA are normally provided by local volunteers like:
Public Libraries in Homer, GA
Public Schools in Homer
Homer, Georgia Community Colleges
ESL Classes in Homer
Toccoa Stephens County Literacy Council
158 S. Broad Street
Toccoa, GA 30577
Phone: (706) 282-5171
16.47 miles away
Clarkesville Campus Adult Education Program
Hwy 197 North North Georgia Tech
Clarkesville, GA 30523
Phone: (706) 754-7781
17.65 miles away
ESL
44 Academy Street
Alpharetta, GA 30009
Phone: (770) 475-6556
52.00 miles away
Community Education Center ESL Day Program
5745 Buford Hwy. Suite 200
Doraville, GA 30340
Phone: (404) 297-9522
55.10 miles away
Covington Campus ESL Program
16200 Alcovy-Jersey Rd.
Covington, GA 30014
Phone: (404) 297-9522
57.83 miles away
Conyers-Rockdale Library ESL Program
864 Green Street
Conyers, GA 30012
Phone: (404) 297-9522
57.86 miles away
Rockdale Career Academy ESL Program
1064 Culpepper Drive
Conyers, GA 30094
Phone: (404) 297-9522
59.20 miles away
New American Pathways
2300 Henderson Mill Road, NE Suite 200
Atlanta, GA 30345
Phone: 404-299-6099
59.43 miles away